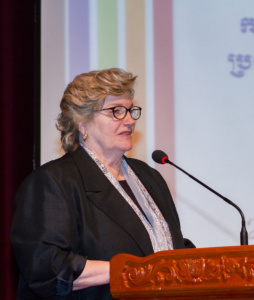 Message From International Director
It has been my absolute privilege to share in the educating of the remarkable students of Abundant Life International School in Cambodia, since 2011. Over the years I've been blessed to work with a team of academic experts in developing a state-of-the-art, Christian world-view curriculum for students in preschool through grade twelve.
It has always been my goal to provide the resources and support parents need to "train up their children in the way they should go," as admonished in scripture. The ALIS program is truly international, giving our students an opportunity to interact with their peers from the other side of the world. My desire is to prepare our students to transition smoothly into higher education on a global level. We do this not only by providing them with a rigorous academic experience, but by bringing together teachers from the United States, the United Kingdom, China, the Philippines, New Zealand and Cambodia to teach our students the languages and customs of other cultures.
We are growing the world leaders of tomorrow who will stand for wisdom and truth. As we encourage traditional American values such as freedom, justice, and equality, I always remind our young leaders of their civic duties and patriotism toward their own homelands. I'm confident that we are raising a generation of young men and women who will make a difference in the world based on the logic and wisdom that is the foundation of Abundant Life International School.
I am forever thankful that so many parents have trusted us to help them in the education of their children.
Sincerely,

Reverend Susan Beninate,
International Director