Our Featured ALIS – USA Graduate of the Month Captain John J. Straub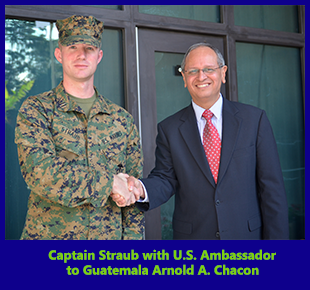 ALIS Cambodia Cambodia is currently affiliated with schools in the U.S., Australia, and China and wishes to expand this base to increase opportunities for students and staff to participate in these valuable exchanges. Outstanding students are selected for this program and provided with financial and technical support.
Captain Straub was graduated from ALIS America in 2002, then received his Bachelor's of Arts Degree from Grove City College in 2006 and a Master's of Science Degree from Robert Morris University in 2007. He is currently serving as a communications officer in the Marine Corps Security Cooperation Group in Virginia Beach, Va.
Since being commissioned in November 2007, John has provided communications support to nearly 10,000 Marines in support of various operations throughout the globe to include Operation Enduring Freedom.
Capt. John J. Straub was pinned on to his present rank by U.S. Ambassador to Guatemala, Arnold A. Chacon and Marine Corps Maj. Paul Sotomayor, officer-in-charge of the Coordination Liaison and Assessment Team, Latin America, at MCSCG during a ceremony at the U.S. Embassy in Guatemala City.
CONGRATULATIONS CAPTAIN STRAUB! THANK YOU FOR YOUR SERVICE!